Sports Medicine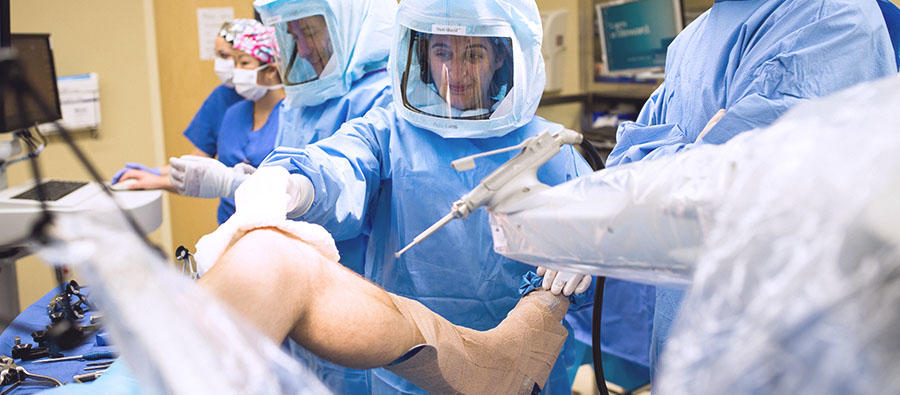 We are here to help you find what you need.
The Sports Medicine team at St. Luke's Medical Center features a team of physicians, including orthopaedic surgeons that are fellowship-trained in sports medicine, sports trainers, physical therapists, chiropractors, and Sports Medicine trained nurses, all of whom want to help you get back in the game – whether you play in a stadium or the backyard.
Orthopaedic Physicians and Sports Medicine Doctors in Central PHX
 
The ultimate goal is to repair damaged muscles, bones and joints while building strength, flexibility and endurance to prevent future sports-related problems. Providers offer treatment for a wide variety of sports-related issues. A physical therapist may be able to help you regain mobility and stability, while building strength. 
Partnership With Athletic Programs
The Center for Orthopaedic Innovation and its sports medicine surgeons proudly partners with the Grand Canyon Pro Rodeo Association and the National Senior Pro Rodeo Association to provide sports medicine conditioning and care to rodeo athletes from around the country. St. Luke's Medical Center is the only hospital sports medicine program in Arizona listed on the North American Rodeo Medicine Referral System.
The Center is also proud to partner with the National Football League (NFL), the USA Rugby Association, and TAFISA and the U.S. Olympic Committee in providing care to the athletes of the U.S. Martial Arts team.
Conditions
Muscle strains, sprains and tears
Injuries to the shoulder, including separations, dislocations, labral tears and rotator cuff injuries
Elbow injuries, including dislocations, sprains and tendinitis (tennis/golfer's elbow)
Knee injuries, including injury to the ACL and other ligaments, meniscus injury, runner's knee, jumper's knee, and effusions caused by direct trauma to the joint
Overuse injuries, such as shin splints and pitcher's elbow
Sprained or twisted ankles
Foot injuries, including arch pain due to fasciitis, strains and injury of the Achilles tendon
Stress fractures
Post-traumatic arthritis
Treatments
Platelet-Rich Plasma Injections
Amniotic Membrane Stem Cell Injections
Cold Laser (low level laser therapy or soft laser)
Resources
Avoid the Twists and Turns of Ankle Injury

An ankle sprain occurs when the ankle twists or rolls, causing the ligaments that hold the bones of the ankle join in place to stretch beyond their normal range, damaging the fibers of the ligament.