Orthopedics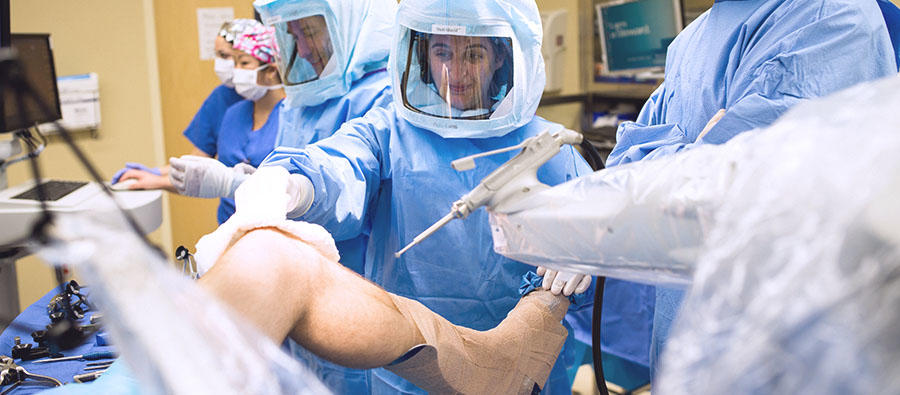 We are here to help you find what you need.
The Center for Orthopedic Innovation at St. Luke's Medical Center features 20 private, spacious rooms with breathtaking views of both the city skyline and the surrounding mountains. The newly remodeled unit also includes four nursing stations, which are designed with patient proximity and convenience in mind.
Orthopedic Procedures Provided at St. Luke's Medical Center
orthopedic surgeons are board certified or board eligible, and our clinical team includes a wide array of healthcare professionals: specially trained orthopedic nurses and physical therapists, chiropractors, radiologists, sports rehabilitation specialists, and others. 
We are proud to be recognized as a Blue Distinction Center+ for Knee and Hip Replacement® by Blue Cross Blue Shield of Arizona for providing comprehensive inpatient knee and hip replacement services, including total knee replacement and total hip replacement surgeries. Blue Distinction Centers® are part of a national designation program that recognizes hospitals that demonstrate expertise in delivering quality specialty care safely and effectively. 
Designated as an Aetna® Institutes of Quality® Orthopedic Surgery Facility -Total Joint Replacement, the dedicated team of physicians on the medical staff at St. Luke's excels in clinical performance, access, and efficiency for orthopedic care.
St. Luke's Medical Center is designated as a Cigna Centers of Excellence (COE) for Knee Replacement. Cigna's program evaluates and recognizes hospitals with positive patient outcomes and high cost-efficiency measures. Participating hospitals meeting specific quality and cost-efficiency criteria are designated as a Center of Excellence by procedure and condition.
Do I Need A Joint Replacement or Resurfacing?
St. Luke's Medical Center is a leader in micro invasive joint replacement and joint resurfacing. We are the only hospital in Arizona that offers the SuperPATHTMand transpiriformis approach to total hip replacement. We are also the first Arizona hospital to offer Mako™ partial knee resurfacing. St. Luke's also offers Navio®, a partial knee replacement procedure. In fact, our patients travel from around the country for these cutting-edge procedures, performed by trained surgeons at St. Luke's Medical Center.
Local candidates for total joint replacement surgery (hip, shoulder, or knee) are encouraged to participate in our Motion Academy® Total Joint Replacement Class, which provides information about the procedure, physical therapy, recovery and more. Engaging our patients in education and responsibility for every aspect of their care is a high priority at the Center for Orthopaedic Innovation.
What Is A Mako™ Robotic-Arm Assisted Surgery?
First, a CT scan of the diseased hip or knee joint is taken. This CT scan is uploaded into the System software, where a 3D model of your hip or knee is created. This 3D model is used to pre-plan and assist your surgeon in performing your joint replacement procedure.
In the operating room, your surgeon follows your personalized surgical plan while preparing the bone for the implant. The surgeon guides the robotic-arm within the pre-defined area and the Mako technology helps the surgeon stay within the planned boundaries that were defined when the personalized pre-operative plan was created.
Total knee vs. partial knee replacement
Based on the severity of the arthritis in the knee, total or partial knee replacement may be recommended by a surgeon. Both procedures involve the orthopaedic surgeon guiding the robotic-arm assisted to remove diseased bone and cartilage.
Do I Need A SuperPATH Hip Replacement?
SuperPATHTM is one of the latest, most revolutionary micro invasive options for total hip replacement. Most patients who elect to undergo this procedure enjoy the following benefits (compared to traditional total hip replacement):
Less pain and scarring

Less blood loss during surgery

Shorter hospital stay

Decreased risk of hip dislocation

Fewer postoperative movement restrictions and precautions

More natural feeling hip
Patients who suffer from one of the following diseases in the hips may be candidates for SuperPATHTM total hip replacement:
Osteoarthritis
Traumatic arthritis
Rheumatoid arthritis
Dysplasia
Avascular necrosis.
The SuperPATHTM procedure may also be prescribed by an orthopedic surgeon to correct a previous fusion or hip replacement.
Conditions
Knees, hips, shoulders, ankles, elbows and hands
Fractures
Sports injuries
Work-related injuries
Back pain
Treatments
Arthroscopic surgery
Ligament reconstruction
Partial and total joint replacement
Spine surgery
Subchondroplasty® for bone marrow lesions (knee pain)
Non-surgical back pain treatment
Resources
How to Choose the Right Running Shoes

Whether you run marathons, 5Ks or a 30-minute loop around your neighborhood for exercise, wearing the proper running shoe will help you ward off a variety of foot problems that can lead to injury or hinder performance.